Intellectual Property Law
Intellectual Property and Patent law is a growing field for those with STEM backgrounds interested in the law.
"I secured a position with an intellectual property law firm as a patent clerk during law school, combining my legal education with my engineering experience."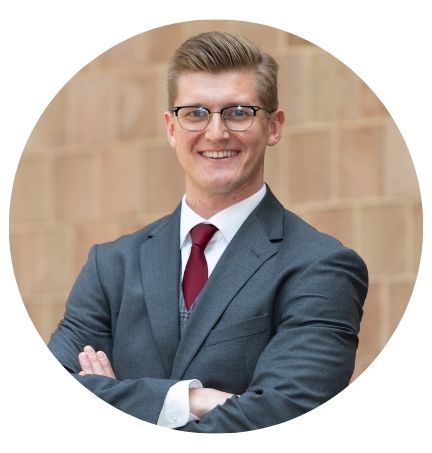 Matthew Chess '23, Intellectual Property Law Fellow
Detroit Mercy Law currently has one full-time tenure track faculty member who has extensive real-world experience in intellectual property law. Through adjunct professors, Detroit Mercy Law is able to offer more IP law courses, while exposing students to professional working in the field today.
 

Professor Melissa Eckhause

Assistant Professor of Law Melissa Eckhause's research lies at the intersection of technology, intellectual property law, and art, and focuses on the rights of visual artists, musicians, and other creators in the digital age. Prior to entering academia, for over ten years, she represented music and film producers, Fortune 500 companies, start-ups, entertainment professionals, and professional athletes.

In 2021, Professor Eckhause was awarded a Thomas Edison Innovation Law and Policy Fellowship. This fellowship, awarded by The Center for Intellectual Property x Innovation Policy (C-IP2) at George Mason University Antonin Scalia Law School, is a year-long non-resident fellowship program that brings together scholars from across the nation to develop rigorous scholarship on intellectual property (IP), creativity, and innovation law and policy.

 

Keith Driscoll '17

Keith Driscoll has a B.S. in Mechanical and Biomedical Engineering and worked as a powertrain engineer before pursuing a law degree. He is the CEO of Confidant Consultants PLC, a firm dedicated to providing access legal advice for all people. He advises clients on a wide range of intellectual property matters, including the procurement and enforcement of IP.

 

Yafeez Fatabhoy '18

Yafeez Fatabhoy has a B.S. in neuroscience and worked at a large hospital before becoming a lawyer. He currently is an associate at Dickinson Wright in the Intellectual Property and Trade Secret Division.

 

Denise Glassmeyer '84

Before pursuing a law degree, Denise Glassmeyer was an organic chemist with a focus on quantitative analysis, quality assurance, and environmental monitoring and remediation. She is currently a shareholder at Young Basile. She has built a practice primarily around patent and trademark prosecution and in patent evaluation and investigation, with a focus on chemicals, materials, and life sciences.

 

Jake Grove

Jake Grove has 25 years of experience as an intellectual property attorney. He is an attorney at Howard & Howard and his practice is focused primarily on litigation of trademark, copyright, and software cases.

 

Tim Kroninger '85

Tim Kroninger is a partner at Varnum and is a member of the Intellectual Property and the Business and Corporate Services practice teams. He has experience in negotiating drafting, and analyzing complex license and franchise agreements, as well as handling merger and acquisition IP due diligence.

 

James Stevens

James Stevens has a B.S. in Electrical and Computer Engineering. He is currently the President of Reising Ethington, an intellectual property law firm. He specializes in augmented reality technology, autonomous and connected vehicles, telecommunications, and many other areas o intellectual property law.
Representative Courses
 

Copyright Law

The course will study the rights of creators under Title 17 of the United States Code and analogous common law doctrines. Topics include the constitutional and historic basis for copyright; subject matter; originality; rights and infringements; the "fair use" doctrine, exemptions and compulsory licenses; notice, deposit and registration; problems of new technologies; and other problems of interest.

 

Entertainment Law

Entertainment Law is not so much a separate body of law as it is an amalgam of the several fields of law that have major influences on the entertainment industries: contracts, intellectual property (particularly copyright but also a certain amount of trademark law), antitrust, labor law, international law, and media regulation (including the internet).

 

Trademarks and Unfair Competition Law

The course focuses mainly on the federal statute (the Lanham Act) and the attendant case law on trademarks, unfair competition, trademark dilution, and trademarks on the Internet.

 

Intellectual Property Law Firm Program

This course will provide students the opportunity to engage in identifying and addressing various Intellectual Property (IP) issues that will arise in a simulated corporate transaction. Students will assume the role of an associate in a law firm and handle certain IP aspects of the sale of the assets of a business.
Clinics
 

International Intellectual Property and Patent Law Clinic

Under the supervision of patent attorneys registered to practice before the US Patent and Trademark Office (USPTO), students will write patent applications for inventors. Students will interview an inventor, prepare drawings and a description for a patentability search, evaluate the patentability search results, prepare drawing layouts for a patent application for the inventor, and write all parts of the specifications including claims for the invention. Applications will be filed with the USPTO.

After completing this clinic, students are able to take the Advanced International Intellectual Property Clinic.

 

Trademark and Entrepreneur Clinic

Operating as a USPTO certified trademark clinic (application pending), under the supervision of licensed attorneys, including licensed trademark attorneys registered to practice before the U.S. Patent and Trademark Office (USPTO), students will have the opportunity to assist local entrepreneurs in filing trademark applications with the USPTO and will be able to correspond directly with that office as well as prepare and file responses. Students will also assist business entrepreneurs in navigating the legal issues involved in business startup.
Intellectual Property Law Fellowship
Each year, Detroit Mercy Law awards the Intellectual Property (IP) Law Fellowship to incoming students with a STEM background and an interest in pursuing IP law. IP Law fellows receive mentorship from IP attorneys and support finding career placement for IP law.
 

Fellows

Mark holds a BSE in Chemical Engineering with a concentration in Biopharmaceutical Engineering from the University of Michigan. He is interested in exploring how law adapts to changing technologies. Prior to law school, he worked as an engineer and volunteered with Habitat for Humanity.

Matthew holds a BSE in Mechanical Engineering from the University of Michigan. He looks forward to merging his experience in the engineering field with his legal studies and pursuing a career in patent law.

Yasmeen holds a BS in Electrical Engineering from Kettering University. Yasmeen's experience working at an intellectual property law firm solidified her interest in becoming a patent attorney.

Rachel Schulte holds a B.S. in Physics with minors in Mathematics and Leadership. She has experience as a Patent Classification Specialist working with private companies that perform contract work for the United States Patent and Trademark Office. Rachel hopes to use her background in STEM to be a patent attorney.
Intellectual Property and Entertainment Law Society
The Intellectual Property & Entertainment Law Society was founded to create a space for students to network and connect with professionals in the field of intellectual property law and entertainment law, especially in the Metro Detroit Area.