There are many options when it comes to housing while attending Detroit Mercy Law. You can live in the heart of downtown Detroit, or live in a nearby community and commute a few short minutes to Detroit.
Apartments in and Around Detroit
 

Rental Search

Students have had success finding rentals with these search engines.
Detroit Mercy Law's connections to the city of Detroit, Michigan, and beyond will help you launch your legal career wherever your path takes you.
 

Advantages of Living in Downtown Detroit

Live within walking distance of Detroit Mercy Law, major law firms, businesses, government offices, and courthouses

Public transit within the city so there is no need for a car, but many students still choose to own a car for grocery shopping or leaving the city

Always something to do downtown: https://www.udmercy.edu/about/detroit.php

Top 3 places downtown where Detroit Mercy Law students live:

Lafayette Towers
Renaissance City Club Apartments
Detroit City Club Apartments
Cities within driving distance to Detroit Mercy Law
Many students choose to take the Smart Bus as it runs to many suburbs. Many students choose to also have a car to commute to and from Detroit Mercy Law.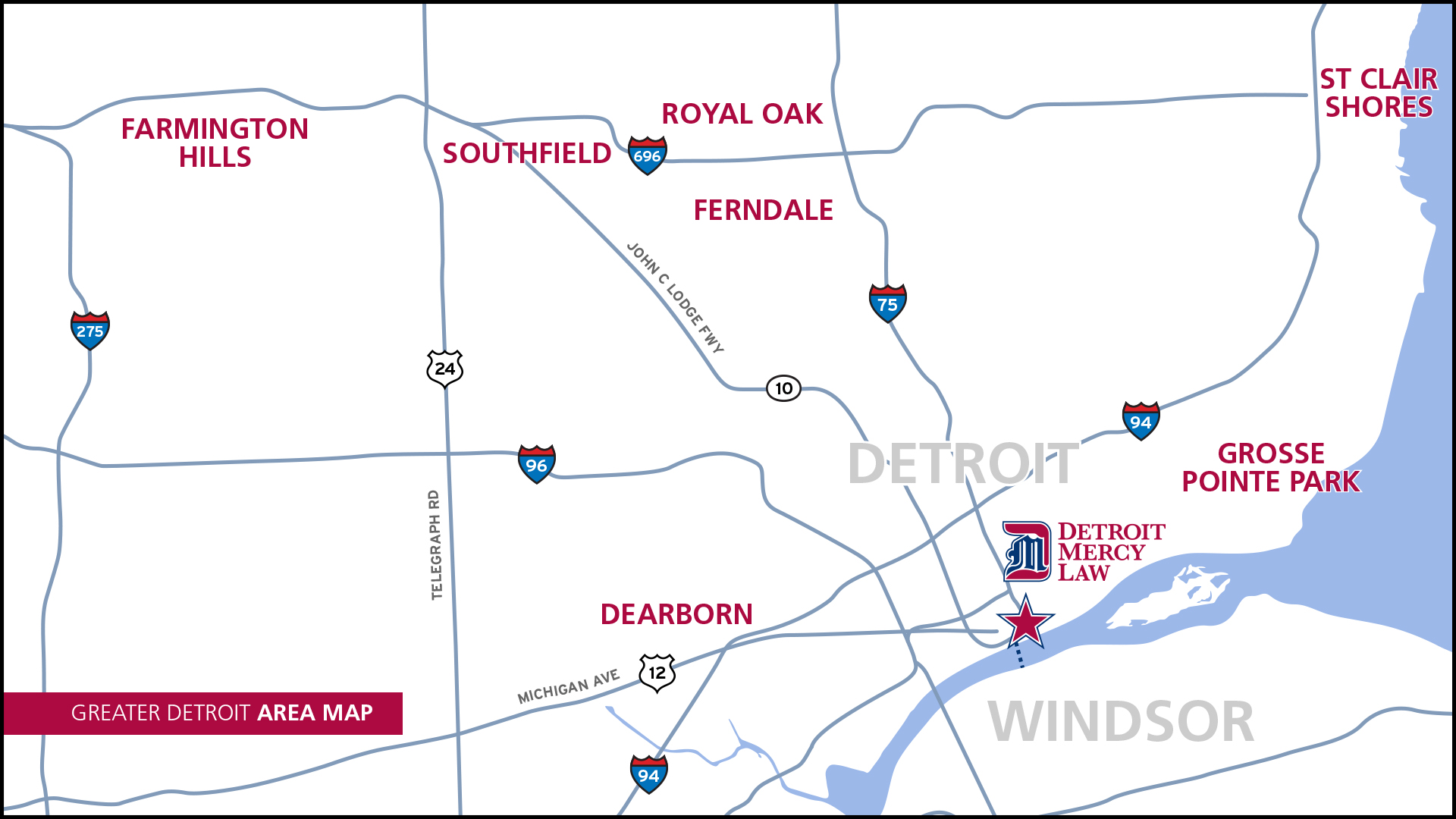 Grosse Pointe Park (6 miles/12 min)

Grosse Pointe Park is a small, walkable community with lake front public parks and an active restaurant scene.

Grosse Pointe Housing Foundation

The Grosse Pointe Housing Foundation Student Grant program is still available in Grosse Pointe Park for full-time law students. This grant program will offer qualifying students up to $400.00 a month off their rent if students follow the guidelines. Requirements include completing the application, which includes a 350-word essay and maintain a grade point average of 3.0 or better.

For more information, applicants, student eligibility requirements, and location of the rental units in Grosse Pointe Park, please email info@gphousing.com or visit gphousing.com. 

 

Dearborn (9.6 miles/13 min)

Dearborn is a close-knit, diverse community, with great food options and lots of locally owned businesses.

 

Ferndale (11.7 miles/17 min)

Ferndale is a diverse suburb known for its art and music culture. Ferndale's downtown offers independent shops and has a diverse and vibrant food scene.

 

Royal Oak (13.6 miles/18 min)

Royal Oak is conveniently located directly off I-75. Royal Oak's recently invigorated downtown offers many shopping and dining options.

 

Southfield (15.6 miles/17 min)

Southfield is a quiet and convenient suburb that offers abundant green spaces and night life options.

 

St. Clair Shores (17.6 miles/21 min)

St. Clair Shores is a quiet community that has many small, local breweries, stores, and restaurants.

 

Farmington Hills (23.4 miles/24 min)

Named the Best Place to Live in Michigan by Time Magazine, Farmington Hills has great bars, restaurants, and shopping.
Some students live in Windsor while going to school at Detroit Mercy Law.
 

Housing in Windsor

Students have had success finding rentals with these search engines.

Housing for Dual JD students

 

Crossing the Border

Many students choose to form carpools to and from Windsor Law/Detroit Mercy Law.
Most students choose to take the Detroit/Windsor Tunnel but the Ambassador Bridge is also an option.