Class of '23: Law grad leaves corporate role to follow childhood dream
To mark the graduation of the Class of 2023, Marketing & Communications is profiling several students who were nominated by staff and faculty for their contributions to the University and their potential to make a difference after graduation. Click here for more information about 2023 commencement exercises.
Even after rising to a vice president position in the financial world, Matthew Snyder's childhood dream tugged at his heart. 
"I always wanted to go to law school, even as a little kid," he said. "It was always my plan." 
After a detour of nearly a decade, Snyder is ready to take on the legal world as he graduates from University of Detroit Mercy's School of Law on Friday. 
"I've never second-guessed my decision to attend Detroit Mercy," Snyder said. "It's honestly been a fantastic experience." 
An Orlando native, Snyder went into business rather than attend law school after earning his undergraduate degree. It was 2009 and the United States was nearing the end of the Great Recession when he landed a job at BNY Mellon | Pershing. 
"I wanted to get some work experience to help with the applicability of what I learned in law school," Snyder said. "I enjoyed working at that company. I loved my former coworkers and clients, so I stayed there longer than I anticipated." 
Snyder took night classes to earn his MBA and climbed Pershing's corporate ladder, going from customer process associate to vice president of account management during his 11 years with the company. He often worked with attorneys and admired the way they thought and addressed problems.  
Even in a different field, law remained on Snyder's radar.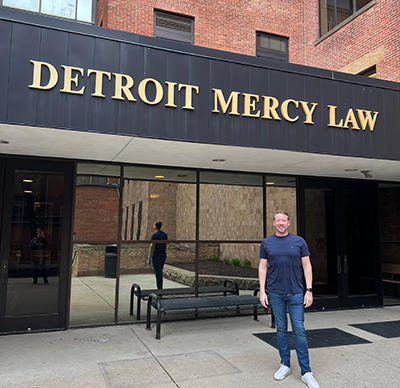 "I was on a career track of continuing to progress, and I knew if I took the next step at my former company, it would pretty much lock me in," he said. "I was like, if I don't go to law school now, then I might lose out on that opportunity." 
In 2020, Snyder, who moved to Michigan two years earlier, left Pershing to attend Detroit Mercy's School of Law. Transitioning from full-time vice president to law student was nerve-racking, he admits, but his business experience helped make things easier. 
"I really treated it like it was my day job," Snyder said. "Coming into law school, obviously we were remote for COVID. I had the benefit of working remotely previously, so I attended class and once it was over, I immediately shifted into studying for the next class. Having that prior work experience definitely helped with time management." 
At UDM, Snyder was editor-in-chief of Law Review, a student-led publication that contributes to the legal scholarship of the state of Michigan and the nation, and treasurer for OutLaws, a political and social organization that serves the needs of the LGBTQ+ community at the School of Law. Snyder also worked in the Environmental Law Clinic, where he feels he developed the skills to succeed as an attorney while having an impact on the world. 
Associate Professor Michelle Richards and Associate Dean and Associate Professor Nick Schroeck were influential to Snyder's journey as a law student. He was a teaching assistant for Richards, who helped him navigate career and summer work decisions in law. Schroeck, who was part of Snyder's reach-out process as a prospective student, offered guidance in the Environmental Law Clinic and served as his Law Review note advisor. 
"He's actually one of the reasons why I ended up at Detroit Mercy, and I benefitted from his tutelage the entire three years," Snyder said of Schroeck. 
The past two summers have provided memorable experiences for Snyder.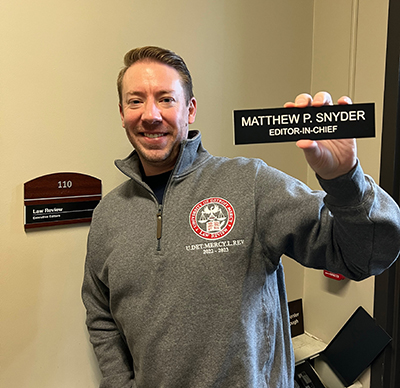 In 2021, he was a summer legal intern at the U.S. Securities and Exchange Commission. Working for a federal agency was "a dream come true" and offered a full-circle moment. 
"In my former role at my old company, I helped clients respond to SEC-related inquiries and examinations, so working at the SEC, I was able to see the other side of those examinations and what those responses look like," Snyder said. "Having the ability to work at a federal agency was very eye-opening and something I always wanted to do." 
Last year, Snyder returned to Florida to work as a summer associate at Gunster, a business law firm. He worked out of Gunster's offices in West Palm Beach, Fort Lauderdale, Miami and Orlando. At the end of the summer, the firm offered him a position on its corporate team. 
The next several months will be quite the homecoming for Snyder as he moves back to Florida to start his legal career. He takes the bar exam in late July and is set to start at Gunster on Sept. 11. The week before his start date, Snyder will marry his fiancé in Italy. 
"I'm excited to get back down there with him, friends and family," he said. "Just excited to get started in my legal career that I've been waiting to do since I was a little kid. To be able to do that from Florida, I'm truly appreciative." 
Snyder will miss UDM and its community, as well as his Law Review executive board. But he feels ready for his next journey, having accomplished his childhood dream. 
"I feel like Detroit Mercy's 'Educating the Complete Lawyer' is a very true mission statement. I feel like I'm prepared to go into legal practice and I'm able to execute those skills that I've learned over the past three years," he said.
— By Ricky Lindsay. Follow Detroit Mercy on Facebook, Twitter and Instagram. Have a story idea? Let us know by submitting your idea.