Clinic News
Detroit Mercy Law students conducted an expungement clinic for the Saginaw Chippewa Tribe on September 23, 2019.
Detroit Mercy Law students launch travelling expungment clinic in 2019. 
https://courts.michigan.gov/News-Events/Pages/ProjectAccess.aspx
Environmental Law Clinic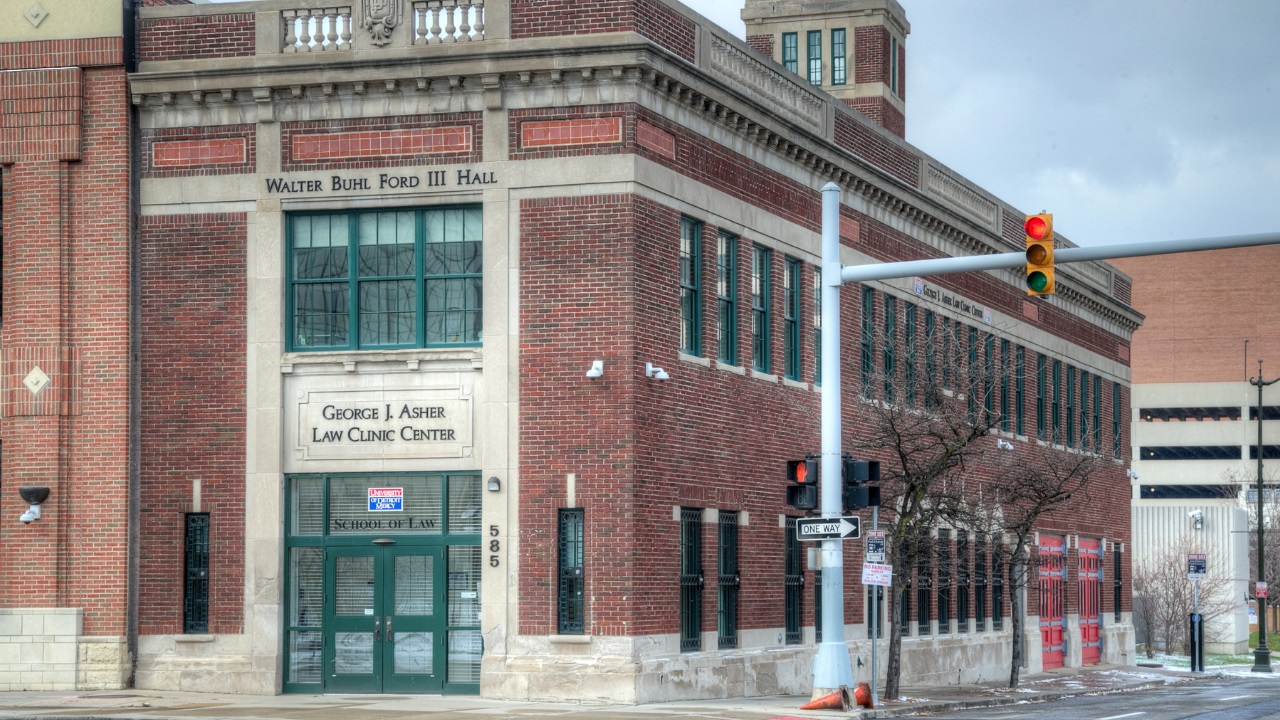 University of Detroit Mercy School of Law, in partnership with the Great Lakes Environmental Law Center, has launched an Environmental Law Clinic to aid organizational clients and teach students how to affect regulatory policy in all three branches of state, provincial and federal government in both the United States and Canada.  "Our clinic will help address critical and unmet areas of public interest environmental law. The clinic will have a cross-border focus, working on issues of importance for the Great Lakes and air quality on both sides of the border. Our students will also represent organizations in Detroit and Michigan that are dedicated to assisting our most vulnerable citizens, who are often disproportionately subjected to high levels of pollution," said Nick Schroeck, Associate Dean of Experiential Learning, Associate Professor of Law and Director Environmental Law Clinic.  The primary focus areas of the clinic is the Great Lakes water quality and quantity issues, with a particular emphasis on international agreements between the United States and Canada; environmental justice matters in Detroit, southeast Michigan, Windsor, Ontario and with Tribes and First Nations; transit issues; and historic preservation. 

The clinic provides law students the opportunity to learn regulatory processes while making an impact in policy development. Students will examine new and existing environmental problems, assist in bringing forth enforcement actions and regulations, represent public interest organizations, and provide testimony at public meetings and legislative committees. 

Detroit Mercy Law operates the clinic in partnership with the Great Lakes Environmental Law Center (GLELC), a Detroit-based nonprofit that offers community education, policy support and legal services to address environmental issues affecting communities in and around Detroit, Michigan and the Great Lakes region.

"Law students have always been an integral part of the Great Lakes Environmental Law Center," said GLELC Executive Director Nick Leonard. "They make important contributions to our work and learn important lawyering skills in the process. We're excited to continue working with students through our partnership with Detroit Mercy Law."

Clients include public interest organizations and advocacy groups such as the Michigan Environmental Justice Coalition, a statewide coalition working to achieve a clean, healthy and safe environment for Michigan's most vulnerable residents.

"Assistance from the legal community under the leadership of Professor Schroeck has been unbelievably helpful in adding capacity for communities that have suffered under environmental injustice for decades," said Michelle Martinez, coordinator at the Michigan Environmental Justice Coalition.

The Environmental Law Clinic will be the eleventh clinic in the school's program. The other clinics on Detroit Mercy Law's roster are Immigration Law, Criminal Trial, Veterans Law, Juvenile Law, Appellate Law, Intellectual Property Law, International Patent Law, Housing Law, Federal Pro Se Legal Assistance, Trademark and Entrepreneur, and Family Law. 

"Our clinics support Detroit Mercy Law's mission to serve," said Detroit Mercy Law Dean Phyllis L. Crocker. "The Environmental Law Clinic allows our students to support the work of environmental justice organizations and use their legal knowledge to advocate for better environmental quality, particularly in underserved communities. In the process, our students will learn what it means to work in service to others and gain real-world experience practicing law."
 Federal Pro Se Legal Assistance Clinic
The Federal
Pro Se
Legal Assistance Clinic opened on January 17, 2018 at the Theodore Levin U.S. Courthouse in downtown Detroit.  
This Detroit Mercy Law Clinic is supported by the Michigan State Bar Foundation, the Oakland County Bar Foundation, the Detroit chapter of the federal bar association, Community Foundation of Southeastern Michigan, Dewitt C. Holbrook Memorial Trust, Kelen L. Kay Memorial Trust, the Miller, Canfield, Paddock, and Stone PLC law firm and several individual donations from attorneys at Honigman, Miller, Schwartz, and Cohn LLP.  For more information about this clinic, click
here
.  


Michigan State Bar Foundation Supports Housing Law Clinic

University of Detroit Mercy School of Law opened its Housing Law Clinic in May 2017. The Clinic is funded for 2017-2018 by a recent grant from the Michigan State Bar Foundation. The Housing Law Clinic functions in partnership with an existing walk-in clinic operated by United Community Housing Clinic and Michigan Legal Services at the 36th District Court in Detroit. Ted Phillips, Executive Director of United Community Housing Coalition, is the director of the Housing Law Clinic. Law students working under the direction of Mr. Phillips as well as other on-site attorneys provide free legal services to individuals facing eviction proceedings in the 36th District Court. The grant supports the creation of this new legal aid clinic and the purchase of a copy machine for the existing walk-in clinic at the courthouse.
The Michigan State Bar Foundation's funding for this project does not constitute an endorsement of any content or opinion expressed in it.